September 1, 2003
For immediate release:
LES FEMMES CALLS FOR FEDERAL PROTECTION FOR TERRI SCHIAVO, ASKS FOR IMMEDIATE ASSIGNMENT OF GUARDIAN AD LITEM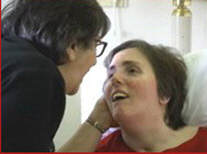 Les Femmes, a Catholic women's organization in the Diocese of Arlington, VA joined the Schindler family today in calling for federal protection for Terri Schindler Schiavo, the Florida woman who's husband is seeking to kill her by dehydration and starvation. Schiavo collapsed in 1990 for unknown reasons, but medical evidence indicates that she may have been the victim of spousal abuse. Terri has never received any rehabilitation although over a million dollars in malpractice settlements was awarded for that purpose. And in fact, her husband, Michael Schiavo, began seeking her death only days after the money was deposited in her account in 1992.

Recent depositions (see Press Release below) indicate that Michael Schiavo, as Terri's guardian, has consistently refused treatment that was in Terri's best interest and has maliciously sought her death, misrepresenting her condition in court and to the media. Terri is not in persistent vegetative state. She smiles, laughs, cries, responds to commands, reacts to family members especially her mother, and attempts to verbalize. She is not receiving any extraordinary treatment, is not on a respirator or hooked to any machines. Numerous witnesses have testified that Terri shows cognitive action and response.

"Terri is in imminent danger from her own husband who is shacked up with another woman and wants Terri dead," said Mary Ann Kreitzer, president of Les Femmes. "Should Michael Schiavo, who probably strangled and beat Terri, be making decisions about her care? Terri's collapse has never been explained satisfactorily and I question the coincedence of all these medical emergencies just when her plight is gaining national attention. Being disabled is not a crime. Terri doesn't deserve execution for not being 'perfect'."

Depositions from nurses and aides who cared for Terri in the past indicate that Michael Schiavo constitues a clear and present danger to her. They also testify that medical records indicating cognitive response have been altered and destroyed by his order. "Did Michael Schiavo strangle and beat Terri?" Kreitzer asked. "Does he verbally and even physically abuse her behind closed doors? Les Femmes calls for immediate naming of a guardian ad litem for Terri and an investigation of Michael Schiavo for possible criminal acts. Michael Schiavo has much to gain from Terri's death and his continued guardianship is a conflict of interest. We call for his immediate removal."
Please pray for the federal judge who will hear the federal appeal for Terri Schiavo tomorrow. His name is Richard A. Lazzara. He is a Catholic trained by the Jesuits in Tampa. We can hope and pray he is old enough to have had good Jesuit training. Let us pray also that his name is a symbol for the raising of Lazzarus and that Terri, who was as good as dead through the evil decisions of Judge George Greer and the Florida Supreme Court, will receive new life through the prayers of the faithful, the intercession of St. Therese, and a just decision by this judge. St. Thomas More, patron of lawyers, please intercede for him.
Most Sacred Heart of Jesus, have mercy on us. Immaculate Heart of Mary, pray for us. Our Lady of Perpetual Help, pray for us. St. Therese of the Child Jesus, pray for us.
You can learn more at www.terrisfight.org.